What is Efflorescence??
What Is Efflorescence buildup on Stone, Stucco, and Concrete?
Efflorescence is a salt mineral or crystal, it's appearance looks white, grey and fuzzy. Found on the outside and inside of your basement walls, stone, stucco, concrete, or other building surfaces. It is a common problem in masonry block and concrete foundations.  In this article the waterproofers at ACCL Waterproofing will go over what efflorescence buildup  is and what you can do to prevent it.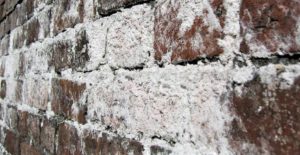 Is Efflorescence Buildup Harmful or cause damages?
The buildup isn't hazardous, although seeing it could mean you have a moisture problem. Ignoring the signs can cause deterioration.
Correcting and fixing the moisture problem and leaks is efficient to efflorescence removal.
How Does Efflorescence Occur?
Water, rain and snow are the primary sources of moisture and may impact the degree of efflorescence 
Three conditions exist before efflorescence can occur:
There must be water-soluble salts present somewhere in the wall.
In order for the salts to turn into a soluble solution there must be enough moisture in the wall.
Soluble salts must have an open path in order to migrate/move through a material the surface. This will cause the moisture to evaporate and crystallize, resulting in efflorescence.
Efflorescence buildup cannot occur if any of these three conditions are not present. 
More than often homes that are being built or under construction can make the masonry units become exposed to water and moisture (if they aren't covered up properly) due to rain and other weather elements.
in many instances, efflorescence may occur during home construction. If masonry units are left out overnight during construction, they can absorb moisture from damp soil and rain. It is essential for masonry units to be covered and left in pallets to minimize the risk of efflorescence throughout a construction project.
Various building surface installation problems may lead to efflorescence, including:
Various building surface installation problems may lead to efflorescence, including:
Incorrect use of through-wall flashing
Use of masonry without sufficient ventilation
Use of masonry in areas that lack a proper moisture barrier
Joint material failure
Improper ground storage
Effective Removal;
If you don't regulate moisture problems, or if you have a leak in your house efflorescence will continue to re-appear.
How To Prevent Efflorescence?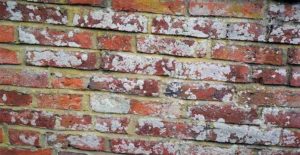 Seeing efflorescence crystals most likely means there is a leak somewhere letting outside water in. The best way to prevent this problem is to prevent the water from gaining access to the wall.
When the source of the water leak is found and stopped the walls should be cleaned with a remover or cleaner.
With the correct materials and construction it's an easy fix! as it is a controllable condition.
The basement waterproofing specialists at acclwaterproofing.com know how to repair your basement and foundation walls and keep moisture out of your basement. Accl Waterproofing would be pleased to develop a guaranteed unique solution to keep your basement dry.
When you choose ACCL Waterproofing, you have the peace of mind, knowing that you have a trusted name in basement repair and waterproofing working to keep your basement dry.
Rely On our ACCL Wet Basement Waterproofing Experts
If you notice efflorescence around your homes interior or exterior walls, or if your home has increased moisture CALL 905-448-5904 or CLICK HERE to visit our contact page.
The basement waterproofing specialists at ACCL Waterproofing know how to repair your basement and foundation walls and keep moisture out of your basement. We would be pleased to develop a guaranteed solution to keep your basement dry!
[action full_width='yes' content_in_grid='yes' type='simple' icon=" icon_size='fa-lg' icon_color=" custom_icon=" background_color=" border_color=" show_button='yes' button_text='Contact us today for all your waterproofing needs!' button_link='http://acclwaterproofing.ca/contact-us/' button_target=" button_text_color=" button_hover_text_color=" button_background_color=" button_hover_background_color=" button_border_color=" button_hover_border_color="] [/action]
Window Wells
What is a window well?
A window well is a U-shaped , ribbed metal or plastic product available in hardware stores which is designed to fit around basement windows. Window wells can be any depth, depending on the basement's window, and they can also come in a more circular or rectangular shape depending on the sizing.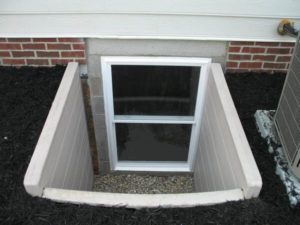 Why homeowners need window wells?
If your home has a basement adding a window well is a solution to install a window that would otherwise be beneath the surface. They also allow natural sunlight into a basement, making it a pleasant space and is usually a legal requirement due to safety concerns.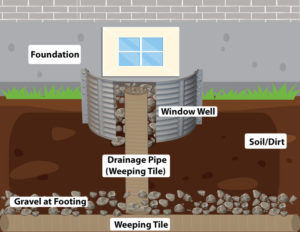 It is necessary for an underground room to have an escape route in hazardous situations and a window with a window well is an emergency exit for those circumstances.
It's less cost and more efficient to employee a certified and insured technician to install all of your window well needs, including covers, rather than making it a legality issue.
Advantages vs Disadvantages of Window Wells
Advantage-
It is the law
Safety
Natural Light
Structural Security
Ventilation
Disadvantages-
Hard to clean
Poor installation which can cause flooding.
Installing window wells in your basement is more beneficial than not especially when hiring a professional to aid in the process. ACCL Waterproofing delivers free estimates and quotes for all waterproofing work including the installation of window wells. Hire a professional to prevent any hazardous mishaps or possible flooding's in your future.