Waterproofing Exterior Walls 101 – ACCL Waterproofing
WATERPROOFING EXTERIOR WALLS 101
Water and moisture can move through the brickwork and impact your internal walls when outside walls are exposed to rains or high humidity. This implies that your walls may remain damp for an extended period of time before drying, perhaps resulting in mold development and irreversible damage. In humid climates, wall damage from water penetration is a matter of when and not if.
How can you keep your walls safe from water and mold? To waterproof exterior walls, perform the next seven procedures.
LOOK FOR FAUCETS ON THE WALLS
Only if the walls get damp as a consequence of rainwater or moisture is waterproofing external walls the best solution. It's critical to rule out any other reasons of structural dampness before looking for waterproofing goods. Anything from cracks in your brickwork to humidity within the wall to a busted water pipe could be the cause. You can use a professional as a preventative step once you've fixed the problem.
MAKE SURE GUTTERS ARE CLEAN
Clogged gutters cause a number of issues, including rotten wood, leaks, and mold. They also collect rainwater, which is progressively absorbed by the roof's wood or fascia boards, potentially leading to a number of issues such as rotten wood, leaks, and mold. By cleaning your gutters twice a year, you may avoid all of these problems and keep your home healthy.
CHOOSING THE RIGHT WATERPROOFING TECHNIQUE
To help homeowners protect their homes from external moisture, a variety of waterproofing materials are now available. Here are a few products to think about:
concrete waterproofing coating, a cement-like solution that clings permanently to concrete and masonry; it can be applied to any surface, including painted walls.
a silicate-based concrete sealer that forms a waterproofing layer by reacting with the components in masonry and concrete; this sealer can only be used on unsealed/unpainted walls.
waterproofing paint is identical to acrylic wall paint, with the exception that it performs better in terms of waterproofing. It's critical to select a breathable formulation that's designed to allow walls to breathe and expel moisture. The product can be used on already painted surfaces.
EMPLOY A WATERPROOFING ADDITIVE IN THE PLASTER
Plastering can help improve the look of a room, make it more substantial, and keep moisture out. Although most external plasters have waterproofing properties, by simply adding a waterproofing additive to the plaster, you may solve water penetration problems and prevent reoccurrence.
GET YOUR WALLS READY FOR WATERPROOFING
Whatever product you use for waterproofing exterior walls, you must first get your walls in good shape. To fix cracks and patch holes, you'll need to utilize a high-quality filler. Allow enough time for the filler to dry completely before grinding. To guarantee a proper adhesion between the waterproofer and the substrate, sand away rough, uneven parts, rinse the surface with water to eliminate dust, and let the walls dry fully.
PUT THE WATERPROOFER ON
The waterproofer can be applied using a roller or a brush. If a second coat is required, let the first coat dry completely before applying the second. Enough substance should be used to provide an impenetrable barrier to penetration.
WATER-TIGHTNESS TEST
It's critical to do a water-tightness test to determine the performance of the products used to waterproof exterior walls. Water should be sprayed on the wall surface for a couple of hours with the nozzle set at a 30-degree angle for this test. Only if a moisture meter indicates that there is no dampness in your home will it pass the test. You'll not only avoid major damage but also increase the value of your property by waterproofing exterior walls.
Take advantage of the warmer summer months to have us look at your basement and help you determine how best to address your basement leakage problems.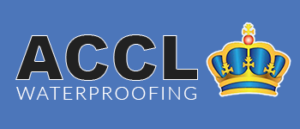 Get the job done RIGHT – Hire a professional Waterproofing company!
Want to know more about our waterproofing process? Give us a call at 416-759-2995
Rely On our ACCL Wet Basement Waterproofing Experts
Don't Drown in a wet basement!
Rely On Wet Basement Waterproofing Experts 
If you've noticed foundation cracks, spots, water, mold, and mildew, don't ignore the signs or it could lead to more damage and possible health effects.
The basement waterproofing specialists at ACCL Waterproofing know how to repair your basement and foundation walls and keep moisture out of your basement. We would be pleased to develop a guaranteed solution to keep your basement dry!
OUR SERVICE AREAS INCLUDE:
Ajax
Ashburn
Bethany
Blackstock
Bowmanville
Oakwood
Orono
Courtice
East York
Goodwood
Gormley
Greenbank
Greenwood
Hampton
Markham
Millbrook
Nestleton Station
Newcastle
Newtonville
North York
Pickering
Port Hope
Port Perry
Prince Albert
Richmond Hill
Sandford
Scarborough
Seagrave
Stouffville
Toronto
Sunderland
Udora
Unionville
Uxbridge
Whitby
Guelph
Georgina