Controlling Dust and Debris: ACCL Waterproofing
Controlling Dust and Debris: ACCL Waterproofing
Is it required to use Dust Suppression?
Absolutely, and for a variety of reasons. Dust suppression becomes a major concern while removing concrete with a jackhammer. the jackhammer's repeated motion tears down concrete and creates a fine dust particle. This dust is easily airborne and can go a long distance, causing a huge mess. It's nearly hard to clean everything up completely.
How can we keep the dust at bay?
The EnviroBoot contact person. This boot is attached to a heavy duty HEPA level filtration vacuum cleaner and fits over the jackhammer's housing. The dust is quickly suctioned up at the point of contact and into the HEPA vacuum as the jackhammer creates it.
Lime Dust –
This airborne particulate is hazardous to one's health. Sand, stone, and lime are the main components of concrete. Concrete is mostly made up of lime (and there is a lot of lime in concrete). It's the glue that holds sand and stone together, yet it's also highly poisonous to human tissue. The small particulate's airborne nature makes it simple to inhale lime dust, posing a health risk to everyone living in the residence. It irritates the eyes and inflames the sinuses, therefore contact should be kept to a minimum. ACCL Waterproofing goes to great lengths to avoid this issue.
Containment of Dust in the entire room –
In the center of the basement, a negative air machine is put up. Through a huge HEPA filter, it pulls a significant amount of air from all directions. Even though the air that passes through the filter is perfectly clean, we nevertheless vent it outside. We vent outside to keep any air movement in the basement to a minimum. This method is exceptionally effective and results in a completely dust-free installation.
In the end, it's all about safeguarding one of your most valuable assets: your home. We understand how critical it is to hire the appropriate personnel who will deliver the results you need at the right price. We have a long list of satisfied customers who can speak to our honesty and trustworthiness. Invite us to provide you with a free examination and quotation right now.
Take advantage of the warmer summer months to have us look at your basement and help you determine how best to address your basement leakage problems.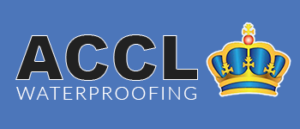 Get the job done RIGHT – Hire a professional Waterproofing company!
Want to know more about our waterproofing process? Give us a call at 416-759-2995
Rely On our ACCL Wet Basement Waterproofing Experts
Don't Drown in a wet basement!
Rely On Wet Basement Waterproofing Experts 
If you've noticed foundation cracks, spots, water, mold, and mildew, don't ignore the signs or it could lead to more damage and possible health effects.
The basement waterproofing specialists at ACCL Waterproofing know how to repair your basement and foundation walls and keep moisture out of your basement. We would be pleased to develop a guaranteed solution to keep your basement dry!
Weeping Tiles
What are Weeping Tiles?
Weeping tiles are 4-inch pipes used to discharge water from underground and redirect water away from the client's home.
How do they work?
How weeping tiles work is that the pipes are placed with holes side up into a trench around the exterior perimeter of the home or in the interior under the basement floor. As water begins to rise it will insert itself within the holes and flow out of the pipes away from the client's home. This can either be through a sump pump or to a drainage system away from the residence.
What type of weeping tiles are there?
There are two categories of weeping tiles: Exterior and Interior tiles. Exterior weeping tiles manage water at ground level before it can seep into the basement. It consists of a dug out trench, gravel, and a pipe. Water than soaks into the ground, through the gravel, and through the holes in the pipe to be swept away from the home. Interior weeping tiles is usually solely used when the exterior method has proven non-successful. This system is installed in the basement where water is directed to a sump pump. A deep trench is cut around the perimeter of the basement where a pipe is filled inside, filled with gravel, and covered with concrete to seal.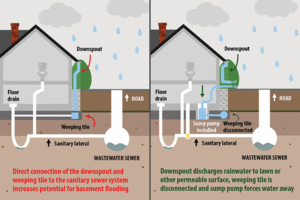 How do you tell if your weeping tile is clogged?
Weeping tiles can become clogged by roots or soil causing the water not being able to drain away and begins to press against the house's foundation. This added pressure is the cause of various cracks and leaks within the foundation of the home.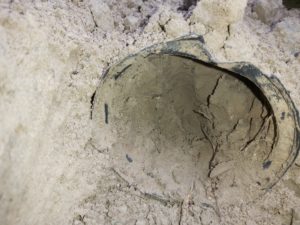 How do you unclog a weeping tile?
The most simple way to unclog a weeping tile is merely getting it replaced. Trying to physically unclog it yourself will result in more damage to the drain and could take a serious amount of time. It is also usually cheaper to simply replace the tile, especially if you're under warranty by a waterproofing professional. All exterior waterproofing work is quoted under a 30 year warranty through ACCL, so a clogged weeping tile can be easily managed by professional help.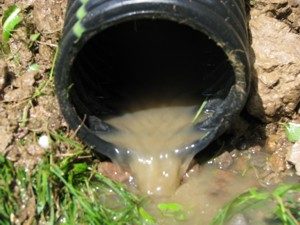 Sump Pumps
What is a Sump Pump?
A sump pump is a method that reduces the risk of water damage in your home. It halts leakage in the underground part as it is installed in most cases the basement of the home. Sump Pump are usually 2 feet deep and 18 in diameter. When water reaches a certain level the switch within in the pump activates, preventing expelled water from flowing into the pit.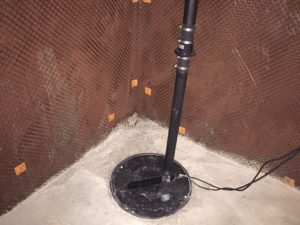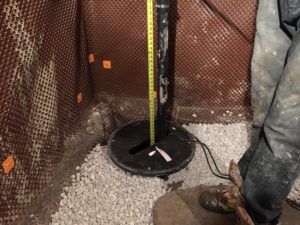 Types of Sump Pumps
Sump Pumps are either a primary method or a backup and most homes should have one of each. Primary sump pumps do most of the work while the backup is only there incase of a failure or if it cannot keep up to the water flow. There are two main sump pumps: submersible and pedestal. Either type can be the primary or backup. Submersible pumps are bulkier and sit right into the sump pump, functioning under water. Since being inside of the pit they are quieter than pedestal pumps but are more expensive. Also, they are harder to reach for maintenance.
Pedestal pumps are long and sit upright with the motor on top causing them to be nosier than the previous pump. They're less expensive and easier to access for repairs, however, some experts consider them less reliable compared to submersible pumps.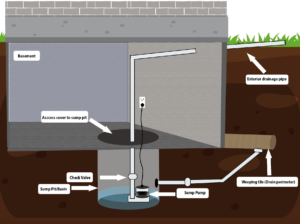 Types of backup Sump Pumps
A common type of backup pump is a battery operated backup which does not replace the primary sump pump. Instead, they only begin working if the primary halts due to a power outage or any other reason. They're usually connected to a large battery, such as a car or marine battery.
Water powered backups aren't connected to an electrical current as they're powered by water pressure. They have unlimited runtime but they need a strong flow of water like the high-pressure flow of a city's water system. Also, they're more difficult to install compared to their counterpart.
Finally, the duration of most sump pumps last for approximately 10 years, however, it's all due to the upkeep and cleanliness of the pump which relates to it's life expectancy.