Sump Pumps
What is a Sump Pump?
A sump pump is a method that reduces the risk of water damage in your home. It halts leakage in the underground part as it is installed in most cases the basement of the home. Sump Pump are usually 2 feet deep and 18 in diameter. When water reaches a certain level the switch within in the pump activates, preventing expelled water from flowing into the pit.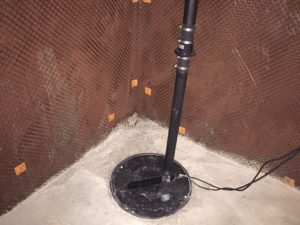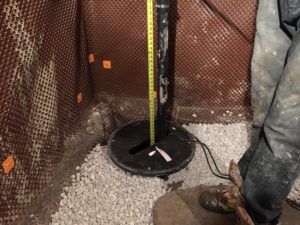 Types of Sump Pumps
Sump Pumps are either a primary method or a backup and most homes should have one of each. Primary sump pumps do most of the work while the backup is only there incase of a failure or if it cannot keep up to the water flow. There are two main sump pumps: submersible and pedestal. Either type can be the primary or backup. Submersible pumps are bulkier and sit right into the sump pump, functioning under water. Since being inside of the pit they are quieter than pedestal pumps but are more expensive. Also, they are harder to reach for maintenance.
Pedestal pumps are long and sit upright with the motor on top causing them to be nosier than the previous pump. They're less expensive and easier to access for repairs, however, some experts consider them less reliable compared to submersible pumps.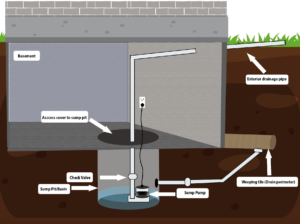 Types of backup Sump Pumps
A common type of backup pump is a battery operated backup which does not replace the primary sump pump. Instead, they only begin working if the primary halts due to a power outage or any other reason. They're usually connected to a large battery, such as a car or marine battery.
Water powered backups aren't connected to an electrical current as they're powered by water pressure. They have unlimited runtime but they need a strong flow of water like the high-pressure flow of a city's water system. Also, they're more difficult to install compared to their counterpart.
Finally, the duration of most sump pumps last for approximately 10 years, however, it's all due to the upkeep and cleanliness of the pump which relates to it's life expectancy.
OUR SERVICE AREAS INCLUDE:
Ajax
Ashburn
Bethany
Blackstock
Bowmanville
Oakwood
Orono
Courtice
East York
Goodwood
Gormley
Greenbank
Greenwood
Hampton
Markham
Millbrook
Nestleton Station
Newcastle
Newtonville
North York
Pickering
Port Hope
Port Perry
Prince Albert
Richmond Hill
Sandford
Scarborough
Seagrave
Stouffville
Toronto
Sunderland
Udora
Unionville
Uxbridge
Whitby
Guelph
Georgina