Below Grade Waterproofing: ACCL Waterproofing
Below Grade Waterproofing: ACCL Waterproofing

You've probably had your outside deck or indoor floor space waterproofed in some way. You may only be familiar with systems that are above grade. Did you know that waterproofing for spaces below ground level is also available? If you have a basement or a below-grade deck, you'll need to consider a below-grade waterproofing coating. As you may know, water can readily get into these spaces. Basements are especially prone to flooding and moisture.
You could end up with serious floor deterioration difficulties down the road if you don't waterproof your floors. When it comes to waterproofing below grade, there are three different styles to consider. You should also consider a decent drainage system, which comes with a variety of solutions.
Examples of Common Waterproofing Projects Below-Grade
To give you a better idea of where below-grade waterproofing is used, it goes far beyond residential applications. It's commonly utilized for foundation walls and slabs-on-grade. It's frequently used in public spaces on plaza decks that are built below ground level.
It's utilized on planters and even green roofs in public buildings and apartments. Other areas to look are sumps and elevator pits, especially during the development period of major structures. Any slabs in a structure or residence usually necessitate below-grade waterproofing to prevent potential water damage. It's time to consider which system you'll need: positive side, negative side, or blind side, depending on where you need this type of waterproofing done.
What is Positive Side Waterproofing, and how does it work?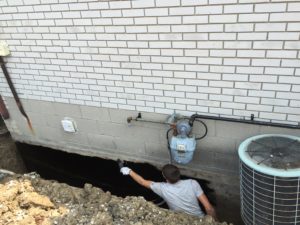 On the outside of all buildings, you'll notice positive side waterproofing. It will necessitate access to the exterior of any building or residence. This, however, is not always achievable. In cases when this isn't possible, you may have to consider negative or blind-side alternatives. Positive side waterproofing, on the other hand, is usually more favourable because it is in a more prominent location. This procedure makes it easy to inspect any faults in the waterproofing membrane than the other ways.
Here are a few things to think about when it comes to positive side waterproofing:
Select the best waterproof material with the help of your waterproofing team.
Inquire if you require additional insulation.
Consider whether or not vapour barriers are required.
To keep excess water out of the region, drainage may be required.
Waterproofing has a negative side
You'll only use this on inner surfaces as an alternative to positive side waterproofing. Because the structure where you're applying the compound may move or crack over time, it's not the ideal answer. If this happens, you may need to go back in and apply extra waterproofing in the future to restore the damage. It's not always a hardship when you have a customized application that's so simple to use.
Waterproofing on the Blind Side
Typically, this option is used on the underside of structural slabs. Blind-side waterproofing is only used where there are property line difficulties or other constraints on where the coating can be applied. The design issues are the same as on the positive side, including determining if drainage is a viable alternative for keeping water out.
Drainage Types to Consider
You'll need to examine whether you'll need drainage once you've successfully applied below-grade waterproofing to your home or structure. Your waterproofing crew can assess the situation and help you examine your alternatives.
French drains and under-slab drainage systems are frequently employed. Consider drainage boards or footing drains in addition to these. If the terrain is fully flat, sump pumps are also required. Sump pumps may be readily hardwired into your electrical system for increased reliability.
Take advantage of the winter months to have us look at your basement and help you determine how best to address your basement leakage problems.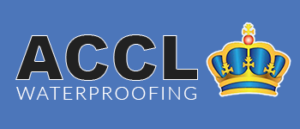 Get the job done RIGHT – Hire a professional Waterproofing company!
Want to know more about our waterproofing process? Give us a call at 416-759-2995
Rely On our ACCL Wet Basement Waterproofing Experts
Don't Drown in a wet basement!
Rely On Wet Basement Waterproofing Experts 
If you've noticed foundation cracks, spots, water, mold, and mildew, don't ignore the signs or it could lead to more damage and possible health effects.
The basement waterproofing specialists at ACCL Waterproofing know how to repair your basement and foundation walls and keep moisture out of your basement. We would be pleased to develop a guaranteed solution to keep your basement dry!
OUR SERVICE AREAS INCLUDE:
Ajax
Ashburn
Bethany
Blackstock
Bowmanville
Oakwood
Orono
Courtice
East York
Goodwood
Gormley
Greenbank
Greenwood
Hampton
Markham
Millbrook
Nestleton Station
Newcastle
Newtonville
North York
Pickering
Port Hope
Port Perry
Prince Albert
Richmond Hill
Sandford
Scarborough
Seagrave
Stouffville
Toronto
Sunderland
Udora
Unionville
Uxbridge
Whitby
Guelph
Georgina