DEALING WITH A WET BASEMENT
In order to fix the problem of a wet basement, a homeowner will have to take several steps to avoid further problems. The first step is to find the source of the water. A person can get water in their basement from many different sources.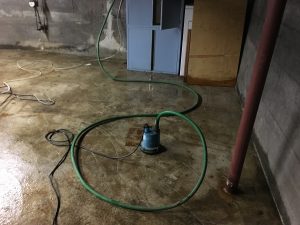 It could be a leaky pipe. The homeowner should check any of the water lines in the basement and see if they can spot any leaks.
If the water is coming from the pipes that are behind the walls this will require the help of a professional to determine the cause and to find a way to fix it. It is also possible that the water is coming into the home from the outside. If the home is not placed on the property so that the water drains away from the home, it can be a serious issue. Most home foundations are made with concrete. Concrete is a porous material. If the water from the outside drains towards the home, it will end up with a homeowner having a wet basement.
If the water is coming through the foundation from the outside, a company that specializes in waterproofing a home will need to be called in. They can seal up the concrete and make sure the water drains away from the home to make sure the water does not get into the basement.
Once a person has found a solution to the wet basement problem, they will need to re-mediate any damage that has occurred. The water in the basement needs to be dried up or a person could end up dealing with a problem with mold. Water can also cause structural damage to a home. Any material that has been damaged by water will have to be either replaced or cleaned in a way to retard mold growth.
OUR SERVICE AREAS INCLUDE:
Ajax
Ashburn
Bethany
Blackstock
Bowmanville
Oakwood
Orono
Courtice
East York
Goodwood
Gormley
Greenbank
Greenwood
Hampton
Markham
Millbrook
Nestleton Station
Newcastle
Newtonville
North York
Pickering
Port Hope
Port Perry
Prince Albert
Richmond Hill
Sandford
Scarborough
Seagrave
Stouffville
Toronto
Sunderland
Udora
Unionville
Uxbridge
Whitby
Guelph
Georgina